Memorable Vacations Guaranteed!
Woody Point is  perfectly centered in the southern region of Gros Morne National Park. Minutes from the Tableland Mountains, a Unesco World Heritage Site attraction. Whether walking the trails, cruising the ocean waters of Bonne Bay, or experiencing some of our local culture &  entertainment in the town site, a memorable vacation is guaranteed. Stay awhile and ease your mind & Experience Woody Point Magic.
On the Water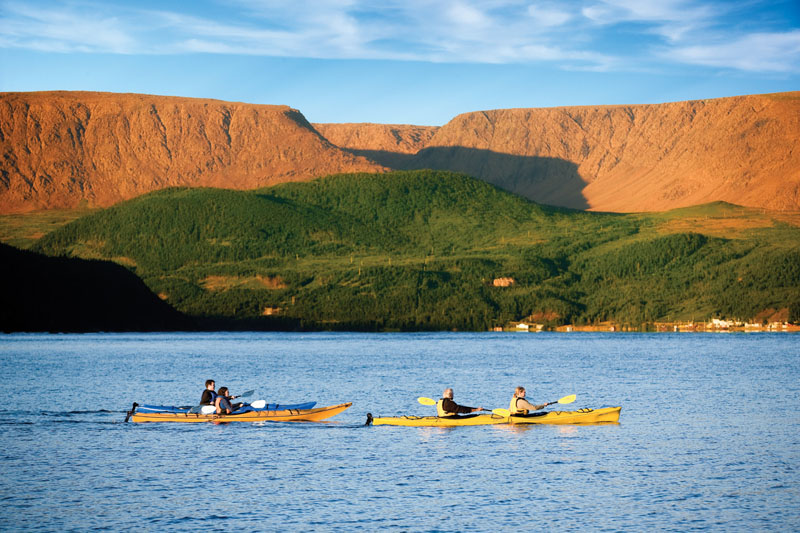 Bonne Bay is a very deep ocean fjiord providing the most scenic landscapes you will see on your Newfoundland adventure. Gros Morne Mountain, the Tableland Mountains, the Bonne Bay Hills, whales, bald eagles, the historic waterfront of Woody Point & the Norris Point waterfront. The experience of the guides and hosts will leave you with a laugh in your belly and a broader knowledge of the history and the geology of the area, in a fun and entertaining day on the water. And if you want to learn more about what is IN the water, the Bonne Bay Marine Station on the waterfront in Norris Point provides a very informative daily tour. We can help to book any of these excursions for you, at the Inn and at our Seaside Gift Shop.
On the Trails
For the hiking enthusiast, Gros Morne South has numerous trails, all with different viewscapes. Park trails include the Tablelands, the Lookout Trail, Green Gardens, Trout River Pond, Lomond, Stanleyville and Stuckless Pond. Woody Point and Trout River also have some very scenic community trails. Order a picnic lunch at our Seaside Deli and head off for an amazing day in the Park. Come back to our Elements Pub at the Bonne Bay Inn and tell us all about it while enjoying a well-earned Pint!
On the Town
Woody Point boasts some of the most creative, talented artisans in Gros Morne National Park. A fun afternoon is guaranteed using our town map as your guide, to drop in to the shops, have a chat, find that perfect gift. By the end of your walk about, you will feel like you are part of the community! It is part of the Woody Point Magic. You arrive as a visitor and leave as a friend.
Woody Point is the home to Writers at Woody Point and Gros Morne Summer Music. They have made this their home and have attracted some of the most talented musicians and authors in the world. You will be awe struck with what you hear. What makes it truly special is the intimate setting you get to experience these performances in. The Woody Point Heritage Theatre & St. Pats have been restored and the acoustics in both venues promise more of that Woody Point Magic. Gros Morne Summer Music started a Pageant walk through historic Woody Point in 2015. It is an easy stroll through the community that helps you to understand why Woody Point is one of only a few Provincial Historic Districts, for it was the main community on the West Coast of Newfoundland, long before Corner Brook was established. Woody Point has a great story, a great history. Local businesses offer live entertainment throughout the year. Be sure to visit the Parks Canada Discovery Centre while visiting Woody Point. Wonderful interpretation and amazing views. Drop in to the town site after your tour of this beautiful facility. Check our What's New Page and social media for upcoming events.
On the North Side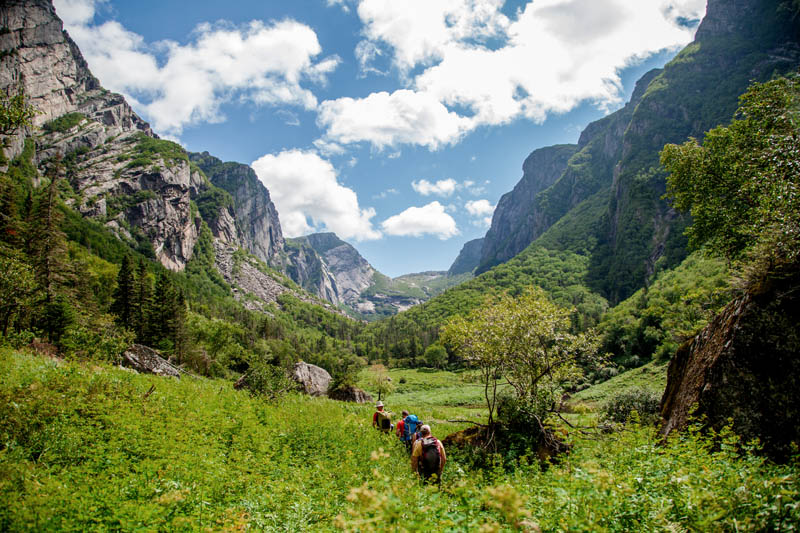 Using Woody Point as your home base and letting our Seaside Deli prepare a picnic lunch for you, venture off to Gros Morne North for hikes such as Gros Morne Mountain (40 minute drive to parking lot), and other Park trails like Green Point Coastal Trail & Bakers Brook Falls (1 hour drive), visiting Norris Point (50 minute drive- you can take the passenger water taxi to Norris Point waterfront from Woody Point-15 minute boat ride-offered a few times a day by Bon Tours, and other times by Blackawton Boat Tour), exploring Lobster Cove Head Lighthouse in Rocky Harbour (1 hour), taking in Western Brook Pond Boat Tour (1.5 hour drive to the parking lot). Western Brook Pond Boat Tour is located north of Rocky Harbour (1.5 hour drive to parking lot). We can arrange your booking and prepare a lunch.
Cow Head hosts the Gros Morne Theatre. It boasts very talented actors and musicians, with great story telling plays of Newfoundland Culture and history. While we highly recommend this to anyone visiting the West Coast, it is a long drive in the dark to return to Woody Point. We suggest adding the theatre to your itinerary if staying overnight on the North Side of the Park. Gros Morne Theatre does travel and will often do a play in Woody Point & on the Emm Cat on Bonne Bay (Bon Tours). You can see their schedule on www.theatrenewfoundland.com.
Woody Point is blessed with scenic beauty, historic charm, amazing artisans, outdoor adventure. Add us to your Bucket List. Experience Woody Point Magic!